×

Your Cart Needs Attention
You already have a product in your cart. Before adding a new one, please choose an option:
Faim de Loup Syrah
Syrah
Member $19.19
Retail

$23.99
Unit price
per
Sale
Sold out
View full details

Smell

Faim de Loup captures all the charm of French Syrah, with plenty of brambly red fruit aromas, cherry, and fresh herbs. There's hints of the region's signature garrigue, a catch-all term for the range of aromatic wild herbs common in this part of France. Finally, as the wine opens up with air, you'll find a touch of Syrah's signature fresh-ground pepper.
Taste

Bold and assertive without being jammy, this Syrah is beautifully balanced on the palate, and full of flavours of ripe red fruit, dried herbs, and spice. The tannins are round and well-integrated, and the long, dry finish has a lovely lift from the bright acidity. This is very elegant take on Syrah with a ton of personality!
Pairing

Pair this approachable red with hearty, warming classics like white bean and Toulousse sausage stew, or match with a lentil and winter vegetable soup.
Aromas and Flavours
Raspberry
Tangy or sweet, juicy or tart: more sophisticated than a strawberry, but just as lush.
Cherry
Fresh B.C. cherries out of the back of a truck, all eaten before you can get them home!
Leaf
When was the last time you raked up all the leaves in your yard and jumped in the pile?
Herbs
Your windowsill herb garden gives off a lovely herbal smell every time you walk by.
Pepper
A whiff of a freshly used pepper grinder - spicy and fresh, without the itchy nose.
Handling and Serving
Serving Temperature
18°C
Cellar
2022 - 2025
Description
Pour Le Vin (which translates to "for wine") is a project we love at WineCollective, and we're thrilled to have another of their fantastic releases as a member exclusive! Using long-standing relationships with quality-minded grapegrowers in some of the best regions in southern France, they produce an eye-catching range of delicious wines that won't break the bank. The latest example is this Syrah from Languedoc, called Faim de Loup ("hungry like the wolf"). Syrah thrives in this part of France thanks to ample sunshine and long, hot summers. Sourced from 40-year old vines planted in sandy soils in the subregion of Aude, Faim de Loup is entirely unoaked to allow the fruit (and Syrah's distinct peppery spice) to shine. After harvest, grapes are destemmed and fermented in stainless steel tanks. The finished wine is juicy and vibrant, perfect for pairing with hearty winter meals. It's a wine meant for early enjoyment, so serve over the next 2-3 years at about 18 C.
Pick Your Package
All monthly subscription packages include:
Wine Tasting Guide
Curated Wine
Member Perks
Shipping Included*
Eco Packaging
2 Bottle Pack
4 Bottle Pack
6 Bottle Pack
* Includes base shipping costs (where allowed by relevant provincial laws), additional shipping surcharges may apply.
Premium Wine Subscription
Looking for an elevated wine experience? This three pack includes all the benefits of our other WineCollective packages, but with premium and cellar-ready wines.
3 Bottle Premium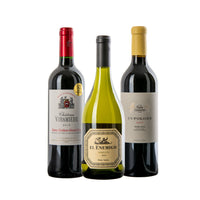 Still Unsure? Try Us Out!
For $10 monthly, enjoy our member perks (and discounts!) without the monthly shipment. Shop our online store's wide selection of WineCollective approved bottles with access to exclusives.
Choosing a selection results in a full page refresh.
Opens in a new window.
➜