×

Your Cart Needs Attention
You already have a product in your cart. Before adding a new one, please choose an option:
Cembra
Pinot Nero
Member $22.39
Retail

$27.99
Unit price
per
Sale
Sold out
View full details

Smell

The nose on this Pinot Nero possesses delicate aromas that evoke forest fruits, sour red cherry, and raspberry, alongside some rose and violet perfume. A touch of herbal and some smoky notes can be noticed as well. There are also some savoury mushroom and leafy characteristics.
Taste

On the palate, this wine is dry, light, soft, and silky, with a gentle acidity. This is an elegant wine that displays red fruit flavours of raspberry, red cherry, pomegranate, cranberry, and strawberry, while also presenting some tobacco leaf, mushroom, earthy forest floor, and a slight hint of smoke.
Pairing

This Pinot Nero would pair nicely with salty, firm cheese, like Piave. It would also work really well with a homemade pasta in a rosé sauce.
Aromas and Flavours
Raspberry
Tangy or sweet, juicy or tart: more sophisticated than a strawberry, but just as lush.
Cherry
Fresh B.C. cherries out of the back of a truck, all eaten before you can get them home!
Rose
'A rose by any other name would smell as sweet.' We should all stop and smell them more often...
Herbs
Your windowsill herb garden gives off a lovely herbal smell every time you walk by.
Smoke
Reminds you of singing songs by the campfire on a beautiful summer evening.
Handling and Serving
Serving Temperature
14°C
Cellar
2021 - 2023
Description
Trentino is a province in northeastern Italy, in the Italian Alps, close to the Austrian border. The region was previously under Austrian control and was annexed to Italy after World War I. Within the dramatic, mountainous landscapes, Trentino is a very important wine producing area. It clocks in at just over 25,000 acres of vines, while the region only accounts for about 1.6% of Italy's vineyards. White wines in the area dominate, but Pinot Nero is one of the main red grapes that it grows. The Pinot Nero grape variety originates from Burgundy, where it is known as Pinot Noir. It thrives when grown in areas with large fluctuations in temperature during the grape growing season. The Valle di Cembra climate has chilly winds that rise off the nearby alpine mountain range. These fluctuations ensure that aromas, flavours, and acidity are optimal. The terraced vineyards are grown at some of the highest elevations in Italy - about 700 metres above sea level. Enjoy this wine at 14 C from now until 2023.
Pick Your Package
All monthly subscription packages include:
Wine Tasting Guide
Curated Wine
Member Perks
Shipping Included*
Eco Packaging
2 Bottle Pack
4 Bottle Pack
6 Bottle Pack
* Includes base shipping costs (where allowed by relevant provincial laws), additional shipping surcharges may apply.
Premium Wine Subscription
Looking for an elevated wine experience? This three pack includes all the benefits of our other WineCollective packages, but with premium and cellar-ready wines.
3 Bottle Premium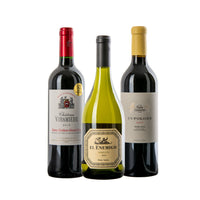 Still Unsure? Try Us Out!
For $10 monthly, enjoy our member perks (and discounts!) without the monthly shipment. Shop our online store's wide selection of WineCollective approved bottles with access to exclusives.
Choosing a selection results in a full page refresh.
Opens in a new window.
➜