Uncork Knowledge!
Get a FREE Wine Folly Wine 101 course with ANY wine subscription.
Unlock the wine world with Wine Folly's beginner Wine 101.
Sip & Learn with $135 of value!
×

Your Cart Needs Attention
You already have a product in your cart. Before adding a new one, please choose an option:
Pick Your Package
All monthly subscription packages include:
Wine Tasting Guide
Curated Wine
Member Perks
Shipping Included*
Eco Packaging
2 Bottle Pack

4 Bottle Pack

6 Bottle Pack

Looking for a Gift?
* Includes base shipping costs (where allowed by relevant provincial laws), additional shipping surcharges may apply.
Premium Wine Subscription
Looking for an elevated wine experience? This three pack includes all the benefits of our other WineCollective packages, but with premium and cellar-ready wines.
3 Bottle Premium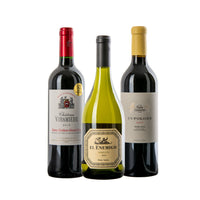 Why Join?
No Contract

Sometimes you need a break. Suspend or cancel your subscription any time.

Great Wines

Our expert team of wine professionals select only the best bottles to share.

Member Pricing

Enjoy access to our online store with member pricing on exclusive bottles.
When Will You Receive Your Package?
New wine subscriptions ship out mid-month, starting the month after you sign up. Don't miss out on our next exciting wine package and sign up today!
Club Specifics
We're Canadian Eh!

The WineCollective is based out of Calgary, Alberta, so all charges are in Canadian dollars.
Shipping

There may be additional charges to ship to some rural and beyond locations. We ship all packages with either Loomis, FedEx, ATS Healthcare or Canada Post. If you are located in a rural community or remote location, we will ship to you using Canada Post. If you have a preference of courier, let us know, and we will update your shipping method for you.

Someone over the legal drinking age in the recipient province/territory must be present to sign for the delivery. If you reside in a province where importing alcohol from other provinces is restricted, you will not be able to order from WineCollective.

Alternatively, you can pick up at our store in Calgary, Highfield! Located at: 22, 1259 Highfield Crescent SE. If you are an existing member that would like to pick-up your package, please get in touch with us.
Amount of Wine

Depending on the package you choose you will receive two, three, four, or six bottles each month.
$0 Initiation Fee / Cancellation Fee

No extra fees here. You only pay for the wine package that is delivered directly to your door.
In-depth Experience Package

In addition to your printed monthly wine guide, we create detailed online profiles for all of the wines we feature, including reviews, tasting notes, food pairing suggestions and more!
Makes a Great Gift!

Know someone that loves wine? Why not buy them a few months as a gift? You can set the quantity of months that you would like to purchase for your recipient and pay up front in full. WineCollective packages are also great as a corporate gift because we can deliver directly to your client's office. The packages are more cost effective than flowers or gift baskets (who wants to eat flowers anyways?).
Billing

If you choose a subscription you will be billed monthly on the 15th, until you cancel. If you choose a gift you will be billed at the time of purchase, only for the number of months you select.
Returns

Cancelling orders: Once you have selected and paid for wines from the WineCollective store, orders cannot be cancelled or refunded. All sales are final.

Damaged products: Our custom built compostable pulp packaging rarely allows for a broken bottle. However, now and then, due to shipping or weather, bottles do arrive damaged. Should your shipment arrive in pieces, please email the wine's details and a photo of the broken bottle to thecellar@winecollective.ca within 30 days of receiving your shipment, we will happily work out a solution with you.

Dislike your wine? We choose wines that are both unique and interesting to feature in our packages. While these wines have all been expertly chosen, because each wine lover's palate is different, you may receive a wine you did not like. In that case, we ask that you keep an open mind, welcome new wines and expand your palate! If your bottle has been corked and the wine's taste and aroma altered, contact us at thecellar@winecollective.ca within 30 days of receiving your shipment. For more information, please visit our Help Page on corked bottles.
Shopping For Someone Else?
Still Unsure? Try Us Out!
For $10 monthly, enjoy our member perks (and discounts!) without the monthly shipment. Shop our online store's wide selection of WineCollective approved bottles with access to exclusives.
"
"We truly are enjoying the wine. I keep a record of each but I can't pick a favourite. They are all so yummy!"
"
"I first received this package as a gift and loved it! The customer service has been excellent and all the wines have been great. It's a great value for the product and I've recommended it to lots of friends. Thank you!"
"
"I love your product & I always tell everyone about you. Keep up the great work and great customer service!"
"
"Wow-Amazing! You guys are wonderful! So happy to have been turned on to WineCollective. Let the wine drinking begin!"
"
"The box was very discrete and packaging was a dream! I've mentioned your company to several friends with a great recommendation and look forward to doing business with you in the future!"