×

Your Cart Needs Attention
You already have a product in your cart. Before adding a new one, please choose an option:
Philippe Michel Cremant d'Alsace Brut NV
Pinot Noir, Riesling, Pinot Blanc, Auxerrois
Member $29.59
Retail

$36.99
Unit price
per
Sale
Sold out
View full details

Smell

Ripe orchard fruit dominates the nose of this effervescent sparkler, with aromas of peach, nectarine, pear. There's hints of quince, green apple, and lemon peel as well, along with the toasty brioche character typical of traditional-method sparkling wines.
Taste

Fine mousse and refreshing acidity are the hallmarks of this Crémant, along with full, generous flavours of peach and nectarine. The long, dry, finish is accompanied by a lemony brightness and a hint of stoney minerality, leaving the palate refreshed and ready for another sip.
Pairing

This is a perfect aperitif wine to begin a celebratory evening with, but it will pair well with anything from assorted cheeses to fresh shellfish - think oysters with a citrusy mignonette.
Aromas and Flavours
Peach
Fuzzy peach candies, or real-life fuzzy peaches fresh from a fresh B.C fruit stand.
Apple
From Granny Smith to Red Delicious, apple makes for a delightfully crisp aroma.
Bread
That yeasty, slightly sour aroma that embodies the promise of freshly baked bread.
Lemon-lime
Common in cool climate white wines, this aroma can range from fresh citrus to lemon zest.
Stone
Remember playing with pebbles as a child and giving them a lick out of curiosity?
Handling and Serving
Serving Temperature
6°C
Cellar
2022 - 2023
Description
If you're a fan of sparkling wine, you've likely come across the word "Crémant" on a bottle at some point. Since the used of the word Champagne is prohibited outside of that region, Crémant is used for sparkling wines that are made in the traditional method anywhere else in France. Crémants will also carry the name of their broader region, so for example you'll see Crémant de Loire or Crémant de Bourgogne. There's currently 8 approved regions that make Crémant, and in general, they make excellent alternatives to Champagne and often highlight their home region's distinctive grapes. The Philippe Michel cuvée is a Crémant d'Alsace from historic producer Arthur Metz. Ideally situated at the north end of Alsace's famed wine route, Maison Arthur Metz has been a leading producer of Crémant since their inception in 1904. This NV (non-vintage) Brut is a blend of Auxerrois, Pinot Noir, Riesling, and Pinot Blanc. It's dry, fruity and refreshing, and at a fraction of the cost of Champagne, it's perfect for year-round celebration. Enjoy at a well-chilled 6 C over the next few years.
Pick Your Package
All monthly subscription packages include:
Wine Tasting Guide
Curated Wine
Member Perks
Shipping Included*
Eco Packaging
2 Bottle Pack
4 Bottle Pack
6 Bottle Pack
* Includes base shipping costs (where allowed by relevant provincial laws), additional shipping surcharges may apply.
Premium Wine Subscription
Looking for an elevated wine experience? This three pack includes all the benefits of our other WineCollective packages, but with premium and cellar-ready wines.
3 Bottle Premium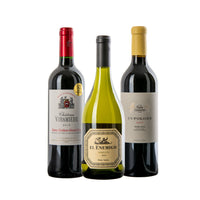 Still Unsure? Try Us Out!
For $10 monthly, enjoy our member perks (and discounts!) without the monthly shipment. Shop our online store's wide selection of WineCollective approved bottles with access to exclusives.
Choosing a selection results in a full page refresh.
Opens in a new window.
➜