×

Your Cart Needs Attention
You already have a product in your cart. Before adding a new one, please choose an option:
Varichon & Clerc Privilège Rosé Dry
Gamay, Cabernet, Airen
Member $19.99
Retail

$24.99
Unit price
per
Sale
Sold out
View full details

Smell

Soft aromas of cut Red Delicious apple slices, wild raspberries, and crushed currants are balanced by some briar patch and subtle earthy aromas. We can thank the Gamay and Cabernet for giving us the berry scents, with the Airen contributing accents of rose, blossom, apple and grapefruit.
Taste

At first glance the wine boasts a foamy pour, settling into delicate bubbles. On the tongue, the effervescence is light and fresh, not overly intense or distracting from the strong flavours. Similar to the nose, we love the transition to the palate, which is elevated by a lightly quenching acidity and a medium-light body. The currants and black raspberries are soft and wild, and the earthy aromas have given way to more fresh tastes that are dominated by the fruits. More apple and grapefruit show through, and are more present near the finish.
Pairing

This is a versatile wine that would do well with beef or lamb dishes, or even spicy foods and desserts. We love bubbles for their ability to adapt to dishes, give them more credit than just a glass to 'cheers' with!
Sight

Pale copper centre that gradually leads to a bright, shiny tangerine-orange hued edges.
Aromas and Flavours
Rose
'A rose by any other name would smell as sweet.' We should all stop and smell them more often...
Grapefruit
As refreshing as aromas come, the smell of grapefruit is purely invigorating.
Apple
From Granny Smith to Red Delicious, apple makes for a delightfully crisp aroma.
Raspberry
Tangy or sweet, juicy or tart: more sophisticated than a strawberry, but just as lush.
Black currant
Sometimes also referred to as 'cassis', this black fruit tasting note is common in red wines.
Handling and Serving
Serving Temperature
8°C
Cellar
2022 - 2024
Description
Savoy (also spelled Savoie and pronounced sav-wa) is a comparatively small department of about 5,000 acres. The majority of this area is located in the Auvergne-Rhône-Alpes in eastern France, but it is comprised of many smaller, isolated sub-plots scattered throughout the country. Varichon & Clerc is one of the oldest wine making houses in Savoy, their Maison being founded in 1901. Specializing in the Traditional Method, they can also boast an in-depth understanding of the region and their wine making process with almost 120 years experience. The result is exceptional wines that showcase the finest traits and merits of the region. Their logo represents their historical ties to Savoy and how they strive to represent it through their wines; the mountain signifying the freshness in their wines, the Edelweiss flower pointing to their pure and rare quality, and the chamois (the goat-antelope) signifying balance and elegance. Chill and serve between 8-10 C, and enjoy within the next year. This wine will cellar for a couple years easily in the proper conditions, but it is intended to be enjoyed young and fresh.
Pick Your Package
All monthly subscription packages include:
Wine Tasting Guide
Curated Wine
Member Perks
Shipping Included*
Eco Packaging
2 Bottle Pack
4 Bottle Pack
6 Bottle Pack
* Includes base shipping costs (where allowed by relevant provincial laws), additional shipping surcharges may apply.
Premium Wine Subscription
Looking for an elevated wine experience? This three pack includes all the benefits of our other WineCollective packages, but with premium and cellar-ready wines.
3 Bottle Premium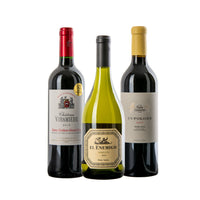 Still Unsure? Try Us Out!
For $10 monthly, enjoy our member perks (and discounts!) without the monthly shipment. Shop our online store's wide selection of WineCollective approved bottles with access to exclusives.
Choosing a selection results in a full page refresh.
Opens in a new window.
➜