×

Your Cart Needs Attention
You already have a product in your cart. Before adding a new one, please choose an option:
Description
WINE 101 Course by Wine Folly A Beginner's Guide to Wine Whether you're just getting started with wine or work in the industry, this course contains many useful resources that will round out your wine knowledge. Buy it once, and own the latest versions for life! What's Included in the Wine 101 Course? • Chapter 1: What Really is Wine? • Chapter 2: The 9 Styles of Wine • Chapter 3: Top 10 Types of Wines • Chapter 4: How to Taste Wine and Develop Your Palate • Chapter 5: Wine Serving & Storing Tips • Chapter 6: Food and Wine Pairing Basics • Chapter 7: Wine Regions of the World • Chapter 8: Going Deeper: Soil Types & Wine Wine Folly's Wine 101 course features over 60 pages of content and 8 videos featuring Madeline Puckette. Upon completion you'll receive a Wine 101 Certificate! Who is this course for? People who want to learn about wine. - Beginners and intermediate wine drinkers who need a solid foundation to build upon. - People who've heard the terms "tannins," "balance," "age-worthy," "structured," "closed," "QPR," "bright," and "flabby" and wondered what they mean. - Professionals who want to feel at ease wining and dining with important clients. - Those who work in hospitality looking to increase their tips and overall professional experience. Who is behind this course? Not just another wine snob. Madeline Puckette is a IWSC "Wine Communicator of the Year," a James Beard Award-Winning and New York Times Best Selling author, and 10+ year veteran in the wine trade. What's makes her so special? Puckette is known for her entertaining, compelling, and most importantly, helpful educational content. It all starts with you, the wine drinker.
Pick Your Package
All monthly subscription packages include:
Wine Tasting Guide
Curated Wine
Member Perks
Shipping Included*
Eco Packaging
2 Bottle Pack
4 Bottle Pack
6 Bottle Pack
* Includes base shipping costs (where allowed by relevant provincial laws), additional shipping surcharges may apply.
Premium Wine Subscription
Looking for an elevated wine experience? This three pack includes all the benefits of our other WineCollective packages, but with premium and cellar-ready wines.
3 Bottle Premium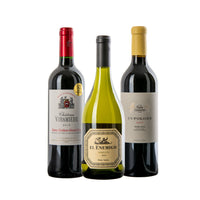 Still Unsure? Try Us Out!
For $10 monthly, enjoy our member perks (and discounts!) without the monthly shipment. Shop our online store's wide selection of WineCollective approved bottles with access to exclusives.
Choosing a selection results in a full page refresh.
Opens in a new window.
➜