×

Your Cart Needs Attention
You already have a product in your cart. Before adding a new one, please choose an option:
Crotin Freisa d'Asti Cisero
Freisa
Member $44.79
Retail

$55.99
Unit price
per
Sale
Sold out
View full details

Smell

Brilliant, translucent ruby in the glass, this red opens with aromas of tart raspberries, red cherries, and under-ripe strawberries. Underlying notes of blossom and a distinct earthiness hint at the parental relationship to Nebbiolo, but this has more freshness and lifted red fruit.
Taste

Imagine the flavour profile of great Nebbiolo with about half the tannic structure, and you'll be in the neighbourhood of what this Freisa tastes like. Fresh berry notes abound, and though the fine-grained tannins and tart acidity are present, they're secondary to the juicy fruit flavours. There's a serious savoury note here as well though, along with an earthiness that will only become more pronounced with age.
Pairing

A great Barolo substitute, this pairs beautifully with the earthiness of sautéed wild mushrooms, venison ragù, or anything with truffles!
Aromas and Flavours
Strawberry
A sweet, almost caramel-like aroma reminiscent of your favourite juicy, red berry.
Bramble
Juicy dark berries picked straight from the bush, with a subtle hint of leaf and earthiness.
Cherry
Fresh B.C. cherries out of the back of a truck, all eaten before you can get them home!
Tobacco
The smell of a freshly rolled cigar, slightly sweet, and earthy - just like Grandpa's hugs.
Leaf
When was the last time you raked up all the leaves in your yard and jumped in the pile?
Handling and Serving
Serving Temperature
18°C
Cellar
2022 - 2035
Description
You may know that many grape species are genetically related (Cabernet Sauvignon is famously the offspring grape of parents Cabernet Franc and Sauvignon Blanc), but did you know that one of Nebbiolo's parent grapes is called Freisa? Neither did we, at least not until we tasted this intriguing example from Crotin! While Nebbiolo is Piedmont's most important red grape, Freisa has been all but lost to history, and has only recently received some much-needed attention (and re-planting). Crotin 1897 is owned by brothers Federico, Marcello, and Conrad Russo, who are dedicated to protecting their land through a commitment to holistic organic farming. In addition to Freisa, the brothers have also resurrected plantings of Grignolino, Albarossa, Bussanello, and Malvasia Moscata, all near-forgotten indigenous varieties. Their small-production (only 600 bottles made!) Freisa can be enjoyed now but will age beautifully for another 10-13 years. Decant after opening and serve at about 18 C.
Pick Your Package
All monthly subscription packages include:
Wine Tasting Guide
Curated Wine
Member Perks
Shipping Included*
Eco Packaging
2 Bottle Pack
4 Bottle Pack
6 Bottle Pack
* Includes base shipping costs (where allowed by relevant provincial laws), additional shipping surcharges may apply.
Premium Wine Subscription
Looking for an elevated wine experience? This three pack includes all the benefits of our other WineCollective packages, but with premium and cellar-ready wines.
3 Bottle Premium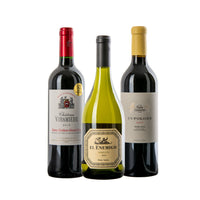 Still Unsure? Try Us Out!
For $10 monthly, enjoy our member perks (and discounts!) without the monthly shipment. Shop our online store's wide selection of WineCollective approved bottles with access to exclusives.
Choosing a selection results in a full page refresh.
Opens in a new window.
➜